Welcome to Chiropractic Associates of Bridgeport, LLC
Bridgeport Chiropractors since 1979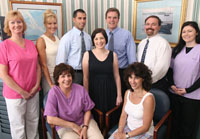 Chiropractic Associates of Bridgeport, LLC was established by Dr. Paul Carpenter in 1979. Located in Bridgeport's north end, Chiropractic Associates of Bridgeport, LLC serves Bridgeport and the surrounding communities of Trumbull, Easton, Stratford, Fairfield and Monroe. Dr. Thompson and Dr. Collins joined the practice more than 20 years ago.
Our Bridgeport chiropractors specialties include chiropractic orthopedics, soft tissue injuries and accidents, neck and back pain and rehabilitation, nutrition and sports injuries. The office includes a physical therapy suite and full x-ray facilities. All major insurance plans are accepted.
We use this website to explain to Bridgeport-area residents what a chiropractor can do—and what a chiropractor doesn't do.
Are you looking for a natural solution to headaches or back pain? Or perhaps ways to get well and stay well that avoid drugs or surgery? You've found the right place! Because finding a qualified chiropractor Bridgeport begins and ends right here!
Associates:
Take the first step towards relief by calling our Bridgeport office today. Countless other Bridgeport-area folks already have!
Chiropractic Associates of Bridgeport, LLC | Chiropractor Bridgeport | (203) 374-4393